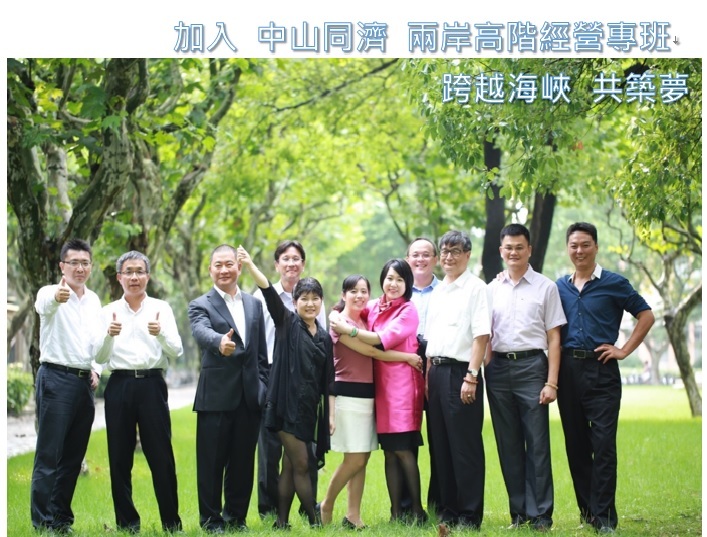 【Introduction】
The growing integration of human resources and the market in Mainland China, Taiwan and Hong Kong has become an inevitable trend. Responding to globalization, the College of Management of National Sun Yat-sen University and the School of Economics and Management of Tongji University jointly established "Cross-strait EMBA"(CSEMBA), combined with cross-strait student sources to establish a cross-strait academic interaction platform.
【Program features】
►Schedule: Once a month, 4 days at a time (from Thursday to Sunday)
►Pursue two degrees simultaneously; gain the cross-strait economic knowledge
►Link cross-strait interactive platforms; create win-win business partnerships
►Increase communication through overseas study tours; share information achieving success
►Co-create value by cross-strait enterprise; build relationship and connection with elites
【Course features】
►Cross-strait academic atmosphere: Combined management knowledge with practical experiences, cross-strait students and faculty members of two universities establish a cross-strait academic interaction platform.
►Multiple instructional designs: Includes international case method, group discussion, business communication, expertise sharing, corporation forums, overseas study tours and so on.
►Cross-strait professional management skills enhancement: Increase the professional management abilities required by the Taiwanese business environment; meet corporate leaders' strong requirements for the life-wide learning, talents cultivation and manufacturing consulting in order to reach the goal of Taiwan's industrial upgrading.
【Curriculum】
Teaching pattern

From Thursday to Sunday on a monthly basis

Location

2/3 lectures at National Sun Yat-sen University (Kaohsiung main campus)

1/3 lectures at Tongji (Shanghai Siping campus)

Course Units

Required credits: 45(including 3 credits came from master thesis)

Required courses: 19 compulsory courses (including one master thesis)

Study period

2 years (can be postponed to third year due to individual learning condition)

Tuition Fee

1.45 million NTD (can be paid in 4 semesters)

Enrollment Period

January (Further details please refer to the announcement)

※ Apply for an EMBA degree from Tongji University simultaneously, in the condition that meet the admission and graduation requirements of Tongji University in Shanghai.